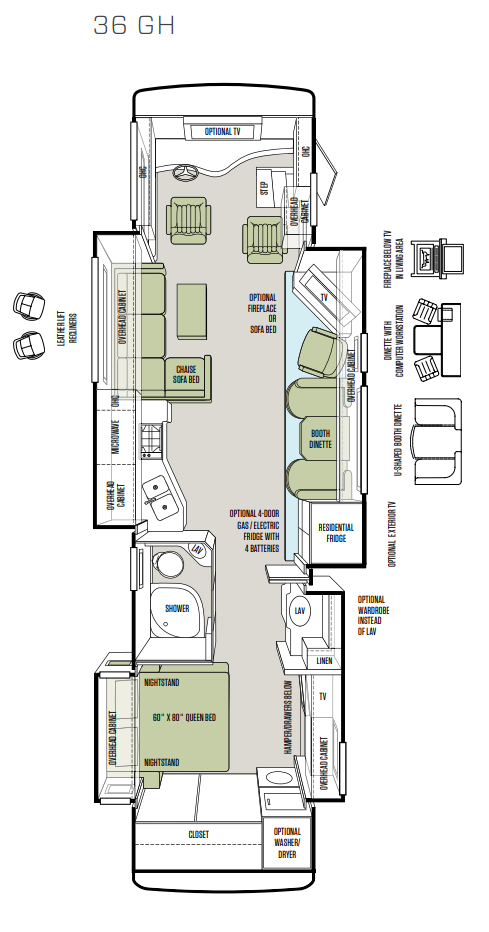 Above is just an example photo
2014-2015 Tiffin Phaeton 36GH
Brochure | Owner's Manual
We've already spent the better part of a year browsing RVtrader, RVT, manufacturer websites, internet forums, attending the local RV show at the stadium, etc to get ideas on brands and features we would like.
So far, this Tiffin is the one we are most excited about that fits nearly ever requirement. We are looking at a 2014 model to ease the depreciation hit although if we can afford it, I'd like to get the 2015 as it looks like they updated the front/rear exterior and replaced the basic interior switches with newer multiplex system that has backlit labels for all the switches. Used is also good since the previous owner will hopefully have worked out the kinks and broken things in. I have a saved search with both RVT and RVtrader that emails me anytime a new one gets listed and one will pop up every month or so but they sell fast (granted it is almost summer at the writing of this which is the hot season for RVs). We are hoping to pick one of these up between September and end of the year.
Phaeton is a higher end model than another Tiffin diesel we looked at: the Allegro Red 37PA. The 37PA had a fantastic floorplan with this great double sink bathroom, but you sacrifice on some of the build quality/features and since we will be full timing, we thought it might be worth compromising on a slightly older RV in order to get the Phaeton. Not that 2014 is really that old anyway.
Although a 40' would have been even roomier, we wanted something a little easier to navigate and to help fit better into certain state parks.
Why diesel instead of gas? It's the age old question. Benefits: Rear engine means a quiet and cool ride up front, slightly better MPG, diesel is less expensive, more torque for going over those mountain grades with ease, the exhaust brake for less stress when coming down the back of them without melting your brakes, longevity, and generally you also get larger and nicer configurations. Cons: They cost more, and repairs might be more expensive although hopefully less frequent since they are generally more reliable too.
We also considered a super duty truck and a Airstream or a huge 5th wheel trailer, but decided those would not work as well with the cats (one of which is going to have a hard enough time with the travelling since he's a bit skiddish). I oogled over the Airstream Classic for awhile, but ultimately it lost consideration since it does not have the storage space we need. With a motorhome, it's nice to be able to just go in the back while the other is driving to make a sandwich or use the restroom. Deploying after stopping or hitting the road is much faster too with the automatic jacks and no trailer to hitch up. We are about 90% sure we'll tow a car behind us so we can get around more easily once we get to a destination, maybe also have a couple electric assist bikes too.
Must-have features/options:
Diesel pusher (for the torque and exhaust brake)

Euro style dinette (works way better for us than the standard booth)

Big closet for all of Jeri's clothes

Washer/dryer so we can do our own laundry inside
Nice-to-have:
Good main area TV placement and room for surround sound (we are movie/TV buffs)

Larger than average bathroom sink area

Residential fridge (love to cook and to keep food costs down by buying bulk)

King bed (both of us plus two cats = crowded but this floorplan does not have it)

L shaped sofa

Delete TV over windshield in favor of more cabinets although those are small

Gas stove instead of electric or induction (better for boondocking)

High torque diesel pusher (I want zero issues carrying full cargo and going up big grades - this one has the ISL 380HP/1050lb and can even tow 10k)
Other features this awesome motorhome has:
Big tanks and they are heated too which is handy in winter climates. We've been to Burning Man many times so we know how to boondock and last a week or two easy

Two 15k BTU air conditioners so we stay frosty in the hottest climates. They also have heat pumps for winter

Fireplace will help warm it in cold climates (providing we have electricity hookups)

Rear and side cameras make parking easier

LED lighting to make those batteries last longer

Dual pane windows are better insulating for both weather and sound

Central vac! save storage space and get rid of our vacuum

Six batteries and a 2k watt sine wave inverter - to keep all our electronics safe. We will probably look at upgrading the batteries to AGM or Lithium so we don't have to run the generator as much when we are not near shore power

Aqua-hot unlimited hot water and heating system

Heated tile floors if we can find a rare one with the option

10k watt generator with auto generator start
Other RVs we seriously considered:
Newmar Ventana
Tiffin Allegro Red
Fleetwood Discovery
American Coach Revolution