White Sands National Monument in New Mexico was beautiful. The fine white sand (gypsum) shimmered in the sunlight. White Sands is the largest gypsum dunefield in the world covering 275 square miles and it was declared a national monument by President Herbert Hoover in 1933.
The sand was cool due to the shallow water table and it felt so good to run your bare feet through it. We loved walking down the shady sides of these large dunes with no shoes. It was almost like you were floating down. Take a look at the videos below to see.
It was like being at the beach minus the ocean. The dunes looked like waves, families came for the day to BBQ and let the kids play in the sand. These dunes were also like being at the snow because you could sled down them and when you walked down the large dunes the sand ran down like an avalanche.
Tiny house at the RV park we stayed at in Alamogordo, New Mexico
Not something you see everyday. White Sands Missile Range surrounds the White Sands National Monument. The monument and US 70 (between the monument and Las Cruces) may be closed during missile range tests.
Hiking the Dune Life Nature Trail
The wind made such pretty patterns in the sand
These dunes are firmer and cooler so people sled down them
I loved these picnic tables. We had a nice picnic lunch
It's like the beach without the ocean
Alkali Flat Trail. This trail was all up and downs!

We found a shady spot on the back side of a dune and took a break. The sand was so cool. It felt awesome.
We tried to make a heart with our shadows
Walking down the sides of the dunes was so much fun!
The last part of the road is not paved but hard packed sand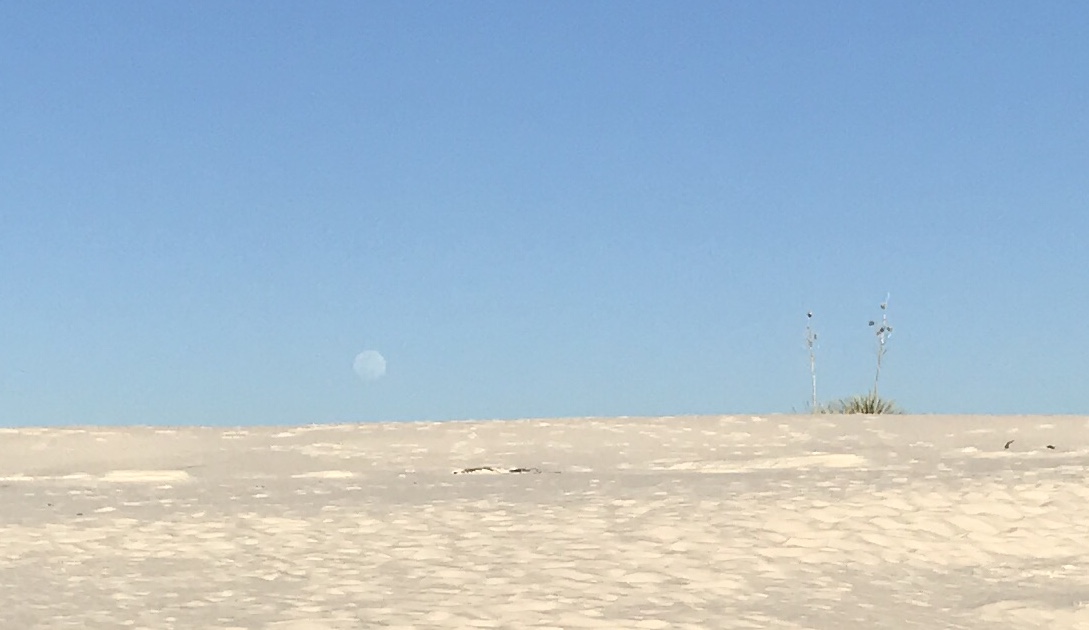 Moon along on our Sunset Stroll
On our guided sunset stroll the ranger took us past this hole that showed that water was about a foot below the surface