We stopped in a little town called Bartlesville, OK and setup shop at Riverside RV Resort & Campground for two nights. Neat little campground with a pool, and a great laundry room made out of a remodeled travel trailer that was cheap and air conditioned, plus they have $.50 cent sodas which was great since I was out and wanting a cocktail. It was blowing cottonwood seed all over the place when we arrived. It was nice out so we did a little bbqing both nights.
Next day we went to Woolaroc Museum & Wildlife Preserve which was about 12 miles outside town in what seemed like the middle of nowhere. Woolaroc was established in 1925 as the ranch retreat of oilman Frank Phillips. About an hour in, I had a lightbulb moment when I finally realized this was the same Phillips as in Phillips 66 or Conoco fuel which explains why the place was so well maintained. The ranch is a 3,700 acre wildlife preserve, home to many species of native and exotic wildlife, such as buffalo, elk and longhorn cattle. Woolaroc is also a museum with an outstanding collection of western art and artifacts, Native American material, one of the finest collections of Colt firearms in the world, and so much more.
We packed a lunch and spent about 4-5 hours there doing the walking trails, visiting the petting zoo, touring the absolutely massive museum full of priceless artifacts and the family lodge. Bus loads of kids were visiting in the morning, but just about leaving by the time we got there so it was not busy at all and super laid back.
Money Saving Tip: Jeri found a coupon for $2 off adult admission to Woolaroc Museum & Wildlife Preserve on the the Oklahoma Green County website. Print out this coupon and save some money! Adults are regularly $12 but children 11 and younger are FREE.
Route: See Leg Two - Updated Route With Comments for our comments about driving on the Cherokee Turnpike.
Cherokee Turnpike in Oklahoma
Our spot at Riverside RV Resort & Campground in Bartlesville, OK
It was laundry day and the duvet cover and pillowcases were air drying
Driving through the preserve. Pretty little waterfall
Water Buffalo. This was a highlight for Jeri. She was very excited to see the Water Buffalo in the water
First thing we did was the Warrior Loop followed by the Outlaw Loop
Everything was very green
We kept seeing these beautiful dragonflies. These pictures do not do them justice
Elk Lake. This was one of Frank Phillips' favorite spots at Woolaroc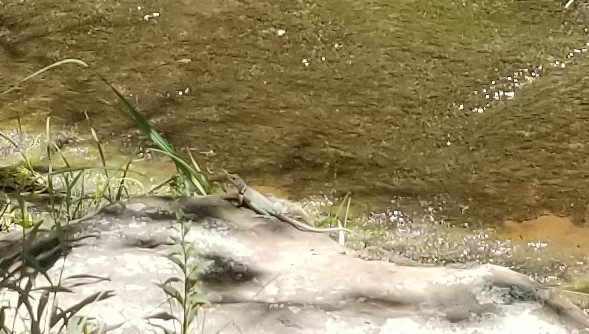 Jeri was fascinated with these amazing bird houses all around the property
This beautiful stained glass was part of the Heritage Center. The Heritage Center had AC, restrooms, table and chairs and played movies about Woolaroc. It was the perfect spot to have our picnic lunch and get a break from the heat
Portrait by Robert Lindneux. The second floor of the Heritage Center was full of portraits by Robert Lindneux. The detail in each of the painting was amazing.
Sagagawea portrait by Robert Lindneux
There were a few animals to pet outside and even more inside the Animal Barn
Penguin giving out some pets
Baby goat checking out Penguin
Hello Mr. Goat! This goat went crazy for some treats
Penguin gave this guy some love too
This ostrich was very interested in us
Six people at a time could climb up to that outlook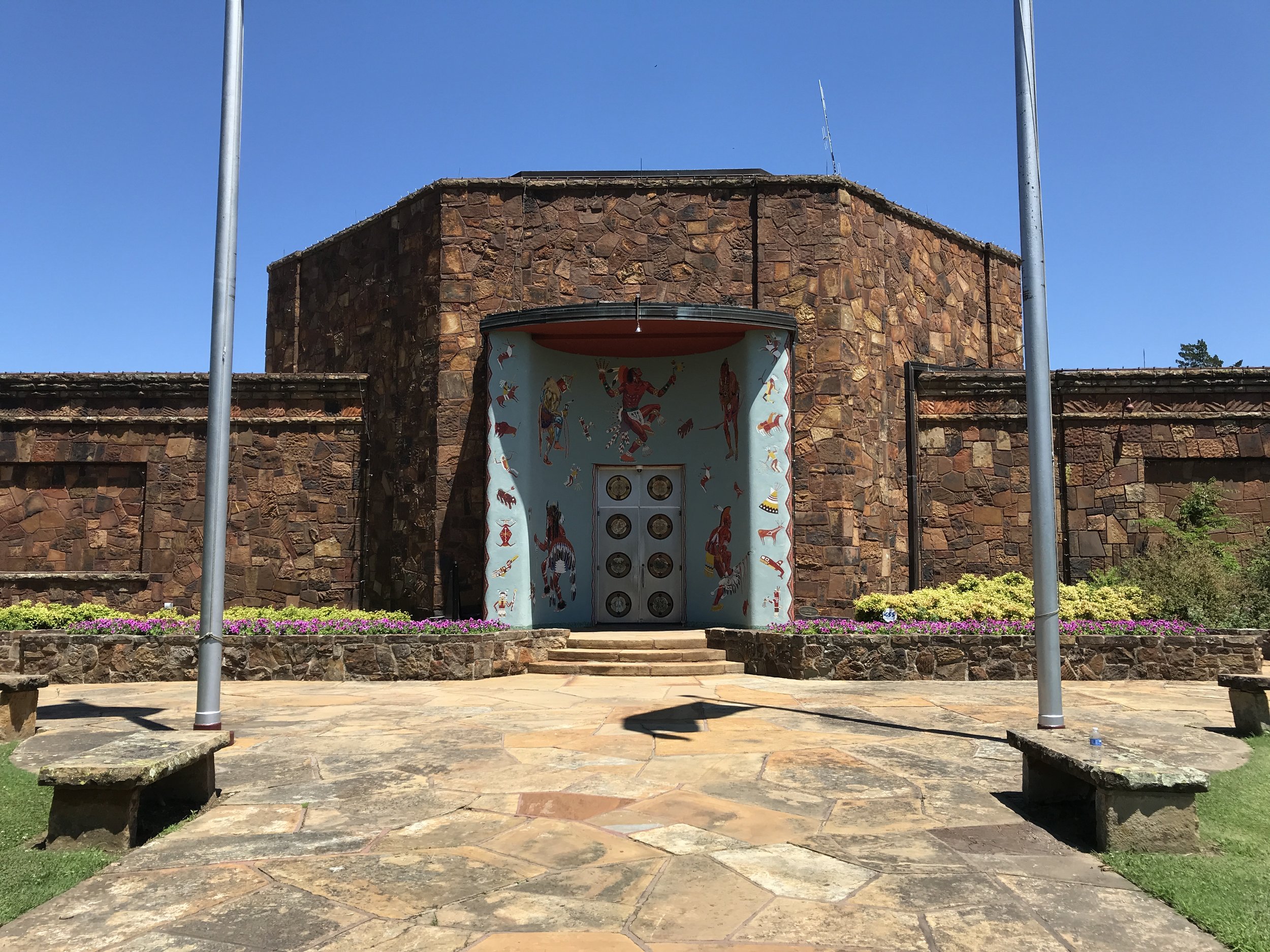 Jesse James might have sat in this chair as "it was a favorite seat at the poker table of a man many claimed to be the famous outlaw"
This picture is for Jeff Millet. The detail on this saddle was something else. Buffalo hide saddle used by Col. Zack Miller on the 101 Ranch
This is the 101 Ranch Show Saddle. "It was billed as "The World's Finest Saddle" when it made its appearance in the 101 Ranch Wild West Show... When new, the saddle contained one hundred and sixty-six diamonds, one hundred and twenty sapphires, seventeen rubies, four garnets, and fifteen pounds of gold and silver."
"This six horse Concord Express Stage Coach saw 43 years service in what is now Montana. From 1869 until 1912, it traveled over 625,000 miles"
The Type 5000 was the first monoplane built by Travel Air, Inc. Less than thirty were made. This plane is number 10 and the only complete 5000 still in existence. This plane was built for Art Goebel who had entered the Dole Flight, a 2437 mile race from Oakland to Honolulu
Inside of the Lodge, which you can rent for events
View of Clyde Lake from the Lodge
Jeri had to get a few more pictures of these bird houses
Frank and Jane Phillips' Mausoleum